Corporate Social Responsibilities (CSR)

TLOC has a responsibility towards all of its stakeholders including the community in which we are located and operate as well as where our employees live. Our CSR initiatives are focused on four key areas, namely:
Health
Education
Environment
Security
2018 CSR Activities
Donation of an Ambulance to Tema General Hospital
Cash donation to Ghana Heart Foundation.
About us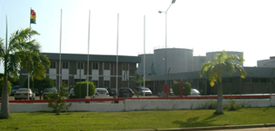 TLOC was established as a result of a decision of the Government of Ghana in 1986 to build a Lubricant Blending Plant in the country. The Government contracted Agip Petroli of Italy to design and construct the Plant.  The construction of the Plant was completed in 1991.
In line with the Government of Ghana's policy on privatization, Oil Marketing Companies (OMCs) operating in Ghana at that time were invited to form a company to buy the Plant and operate it.  The OMCs agreed and established Tema Lube Oil Company (TLOC) on October 9, 1990 to acquire the Plant.  Blending of lubricants commenced in 1992.
The current shareholders of the company are Social Security & National Insurance Trust (SSNIT) of Ghana, Total Outré Mer SA, Shell & Vivo Lubricants BV, Total (Africa) Limited of France, Ghana Oil Company Limited, Total Petroleum Ghana Limited and ENI International BV.
read more