Office of the Managing Director
The office of the Managing Director oversees the operations of all Departments of the Company and other four sections to ensure that the Organization achieves its business vision, mission and objectives and complies with all relevant regulations and laws.
The four sections are:
Internal Audit
The Internal Audit Section is responsible for evaluating and improving the effectiveness of the Company's governance processes, risk management and control process. It reports to the Audit Committee of the Board of Directors and the Managing Director and provides assurance that helps them to fulfil their duties to the Organization and its stakeholders
Health, Safety & Environment
Tema Lube Oil Company Limited (TLOC) has a systematic approach to health, safety and environment (HSE) management in order to achieve continuous performance improvement.  The Company manages HSE matters as any critical business activity, sets standards and targets for improvement, measures, appraises and reports performance verifiable by all stakeholders...read more
Information & Communication Technology
Businesses rely more on ICT systems and networks to be competitive in today's marketplace. Failure to have a robust, highly reliable and available secured network can easily put today's business behind the curve...read more
Planning & Customer Relations
The Planning and Customer Relations section coordinates the preparation of the Company's business plans consistent with the Company's vision, mission, objectives and external trading environment and generate management information based on actual performance versus Plan, for Management action.
It also liaises between the Company and Customers to ensure customer satisfaction by tactfully resolving customer complaints and concerns as well as providing adequate responses to customer enquiries.
About us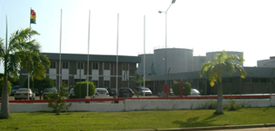 TLOC was established as a result of a decision of the Government of Ghana in 1986 to build a Lubricant Blending Plant in the country. The Government contracted Agip Petroli of Italy to design and construct the Plant.  The construction of the Plant was completed in 1991.
In line with the Government of Ghana's policy on privatization, Oil Marketing Companies (OMCs) operating in Ghana at that time were invited to form a company to buy the Plant and operate it.  The OMCs agreed and established Tema Lube Oil Company (TLOC) on October 9, 1990 to acquire the Plant.  Blending of lubricants commenced in 1992.
The current shareholders of the company are Social Security & National Insurance Trust (SSNIT) of Ghana, Total Outré Mer SA, Shell & Vivo Lubricants BV, Total (Africa) Limited of France, Ghana Oil Company Limited, Total Petroleum Ghana Limited and ENI International BV.
read more