ENGINEERING & MAINTENANCE DEPARTMENT
Blending of lubricants to meet customer expectations at competitive prices require best practices in every aspect of job execution on continual basis.  Therefore the availability and reliability of systems and equipment to support production of lubricant are paramount in meeting deadlines and satisfying contractual obligations to our customers.
The Engineering and Maintenance Department is responsible for ensuring Plant Equipment are available at optimal safe operation condition at all times.  It also maintains buildings to keep them in a good state of repair and provides utility services.
The Department in addition provides technical and specialist support for Plant changes, Equipment replacements, Equipment upgrades, new Equipment acquisition and installations and introduction of new technologies that enhances the production of lubricants.
TLOC's Engineering and Maintenance Department implements best practices such as Preventive Maintenance (PM), Predictive Maintenance (PdM) and Reliability Centred Maintenance (RCM) using AutoMaint, a locally developed Computerized Maintenance Management System (CMMS), to ensure equipment availability and reliability.
The Department engages skilled Engineers, Mechanical and Electrical Technicians who use their expertise in addressing the repair and maintenance needs of the Plant.
About us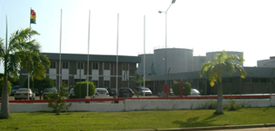 TLOC was established as a result of a decision of the Government of Ghana in 1986 to build a Lubricant Blending Plant in the Country.  The government contracted Agip Petroli of Italy to design and construct the Plant.  The construction of the Plant was completed in 1991...
read more