Production Department
The Production Department is responsible for blending and packaging of quality lubricants that meet the changing requirements of the respective Oil Marketing Companies (OMCs) in Ghana and other parts of the world.  It also manufactures steel drums.
The Department comprises three (3) sections:-
BLENDING PLANT
The Blending Plant blends base oils and proprietary additives in various proportions based on formulations of respective OMCs for the production of specific grades of lubricating oils
The categories of lubricants blended are:-
Engine Oils
Hydraulic Oils
Gear Oils (Automotive and Industrial)
Marine Oils
Industrial Oils
The production capacity of the Blending Section is 80,000kg per 8-hour shift and manned by competent production personnel who produce quality lubricants for both local and international markets. The blending process is batch controlled using locally developed software, Blendsopht.
FILLING PLANT
The Filling Plant packages blended products (lubricants) into steel drums, plastic bottles, plastic pails and integrated bulk containers (IBC) as well as bulk trucks.
There are three fast-filling small packs lines producing 900 to 950 bottles per hour on each line and two (2) drum-filling lines with an hourly production output of 50-60 drums.
There is also a metering line system for filling of bulk lubricants into IBCs and bulk trucks.
DRUM PLANT
The Drum Plant produces steel drums, using cold rolled steel sheets. The drums are branded in the colours of the customers.
It employs a line production to produce about 80 drums per hour using highly skilled technicians.
The steel sheet off-cuts are carefully handled and sold to local steel mills for recycling.
About us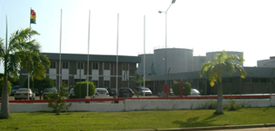 TLOC was established as a result of a decision of the Government of Ghana in 1986 to build a Lubricant Blending Plant in the country. The Government contracted Agip Petroli of Italy to design and construct the Plant.  The construction of the Plant was completed in 1991.
In line with the Government of Ghana's policy on privatization, Oil Marketing Companies (OMCs) operating in Ghana at that time were invited to form a company to buy the Plant and operate it.  The OMCs agreed and established Tema Lube Oil Company (TLOC) on October 9, 1990 to acquire the Plant.  Blending of lubricants commenced in 1992.
The current shareholders of the company are Social Security & National Insurance Trust (SSNIT) of Ghana, Total Outré Mer SA, Shell & Vivo Lubricants BV, Total (Africa) Limited of France, Ghana Oil Company Limited, Total Petroleum Ghana Limited and ENI International BV.
read more