Information, Communication Technology
Businesses rely more on ICT systems and networks to be competitive in today's marketplace. Failure to have a robust, highly reliable and available secured network can easily put today's business behind the curve. The ICT section plays a role in the Company's business to help stay above this curve.
A variety of application packages currently support the main business processes. A customized package developed using Oracle platform supports both the Production and Maintenance systems. SAGE 300 ERP 2012 is used as a Financial Management tool to manage the financial systems.
The ICT Section coordinates, and facilitates the use of information communication technology and information resources to the satisfaction of the Company and its stakeholders.
The Section is organized into three functional units namely:
Technical Support
Software Development and Maintenance
Information Management
Functions
ICT Policy & Strategy development and implementation
Provision of hardware & software solutions
Automation of core services
Maintain server functions
Training
Information Management services
Technical Support Services
Website design and development
About us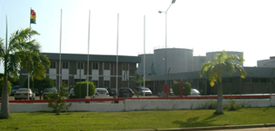 TLOC was established as a result of a decision of the Government of Ghana in 1986 to build a Lubricant Blending Plant in the country. The Government contracted Agip Petroli of Italy to design and construct the Plant.  The construction of the Plant was completed in 1991.
In line with the Government of Ghana's policy on privatization, Oil Marketing Companies (OMCs) operating in Ghana at that time were invited to form a company to buy the Plant and operate it.  The OMCs agreed and established Tema Lube Oil Company (TLOC) on October 9, 1990 to acquire the Plant.  Blending of lubricants commenced in 1992.
The current shareholders of the company are Social Security & National Insurance Trust (SSNIT) of Ghana, Total Outré Mer SA, Shell & Vivo Lubricants BV, Total (Africa) Limited of France, Ghana Oil Company Limited, Total Petroleum Ghana Limited and ENI International BV.
read more